There are 3 different playable characters: Jack, Abby and Kenji. Each one of them moves differently, has different stats, different skill trees, some unique abilities and different finishing moves.
Jack is a big guy in his 50's. Loves camping, communing with nature and he enjoys fishing and hunting. When infection started, he decided to quit the city and reach for a safer place he knew in the ocean. Built like a brick outhouse, in fact. This isn't quite the great outdoors he's so familiar with, but he's definitely no stranger to roughing it.
So what if he's not the most fit or limber? Just don't get in his way if he's swinging a weapon! With his size and strength, he'll be sure to hack it as a survivor… Or die trying.
Jack is primarily associated with the 'hack & slash' type of gameplay. Using weapons like machetes and axes are his main strengths.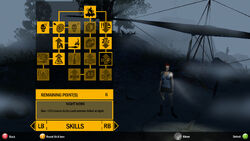 Abby
Is a 22 year old trendy urbanite. She detests the country, forests, mountains… in fact, just about anything that's not in the city! But she is very stubborn, and that will is key for survival... This is NOT the way Abby wants to spend her weekend! But don't underestimate this angsty college girl, unless you're ready to be proven wrong. Abby might not be the strongest survivor ever to wash up on these shores, but she's a decent shot when she takes her time. And all that cross country training in high school? It might come in handy while running for her life.
Abby is primarily associated with the 'clear shot' type of gameplay. Using weapons such as bows & feathered arrows are her main weapons.
Is in his 30's, he is lightly athletic and is used to handling firearms. He's made in the mould of the Japanese mafia. Don't let Kenji's lithe athleticism and good looks fool you; this guy is no sissy, even if he was cruising by on a luxury yacht  before it sank just off shore. If he has a firearm within reach, and you're not human (anymore), you'd better duck! This is one deadeye who will stop at nothing to stay alive!
Kenji is primarily associated with homemade weapons which can be created and adapted frequently as the game progresses. Using weapons like the homemade pump-action shotgun at lower levels is key to survival.